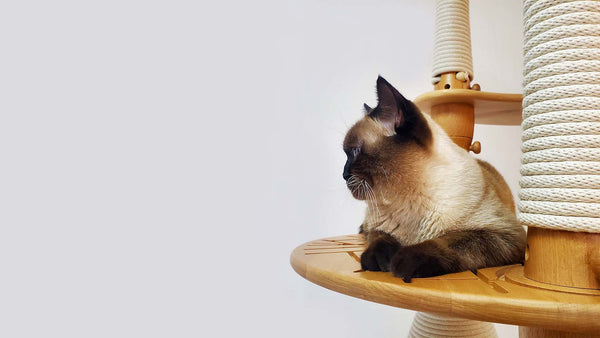 Purrrfectly Modular
Just like a tree, it grows over time,
with endless sections and modules.
See all expansion kits
Built to last
Money-saving durability
with 5-year warranty.
Will save you from replacing
furniture year after year.
All Money saving trees
Environmentally friendly and sustainable
Made of responsibly sourced hardwood.
My cat loves it. I placed it by the window. Most of the time she was relaxing or sunbathing, and she also enjoyed climbing.
I thought that it might be too big, but I was able to build it so it would fit in my New York apartment.
It was very playful for her.  VERY GOOD QUALITY that made it feel like furniture and not just a playground for the cat.
One day I will build her a castle with Meow Mews.
Giacomo Y.
My kitty Josie loves the Meow Mews tree. It's beautifully designed and solidly built and doesn't wobble when she jumps to the top level, unlike the more cheaply made cat furniture out there.
The different levels allow her to easily get up to the top, where she can chill and watch all the birdies out of the window. The rope sections give her something durable to dig her claws into. I love that you can add and change out modules, so it can continually evolve and grow over time. It looks and feels like high quality furniture, not your typical cat scratcher/condo made from carpet remnants.
Greg E.
My Cats are obsessed with their Meow Mews tree! This is the only tree they couldn't destroy. It is the most stable and durable condo I've ever used. The general quality is outstanding, and I loved the natural ropes with the option to renew over time.  I built it floor-to-ceiling to accommodate their night sprints and energy release, and when they are calm, they love to take their naps inside the cozy canopy.
Anton L.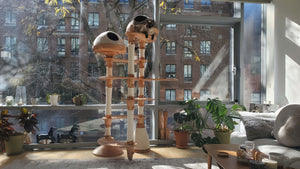 "My cat and living room were never this happy"
We Are Meow Mews
As cat owners and designers, we were frustrated by the lack of quality, durable furniture that could be functional and beautiful, and could be kept visible in our home all the time. We also realized how much money we have spent on lower quality, disposable products over the years. As we set our minds on designing a better alternative, we wanted to provide comfort, a sense of security and safety to our cats, as well as climbing and playing opportunities. We wanted to create a modern tree with a playful interface, that we can restructure and expand from time to time to improve our cat's climbing, perching, scratching, and stretching.
Getting inspiration from trees in nature, we created a system of sculptural pieces with modern sensibility and a timeless look.
We set ourselves to become ambassadors of quality and sustainability. We create premium cat furniture for our cats, and for ourselves, with Love.
Aslan
A beautiful sculpture that provides excellent climbing, scratching, and
perching opportunities. Designed to allow light and air to flow through it,
Aslan can become the centerpiece of any room and the delight for your cat! From
the high perch your cat can survey its surroundings as the master of its own
castle.
Stable as a tree
We made sure the weight and shape of the system make it
stable for all cat sizes. For larger cats, weighing more than 20 lbs., expansion packs offer even greater stability.
Assembly is a breeze
Assembly is simple and fun, and requires no nailing, screwing, gluing, or similar. All Meow Mews kits can be assembeld within five to twenty minutes, if your cat will let you. Kits' modularity allows users to add and remove sections, providing flexibility, easy delivery, and transport.